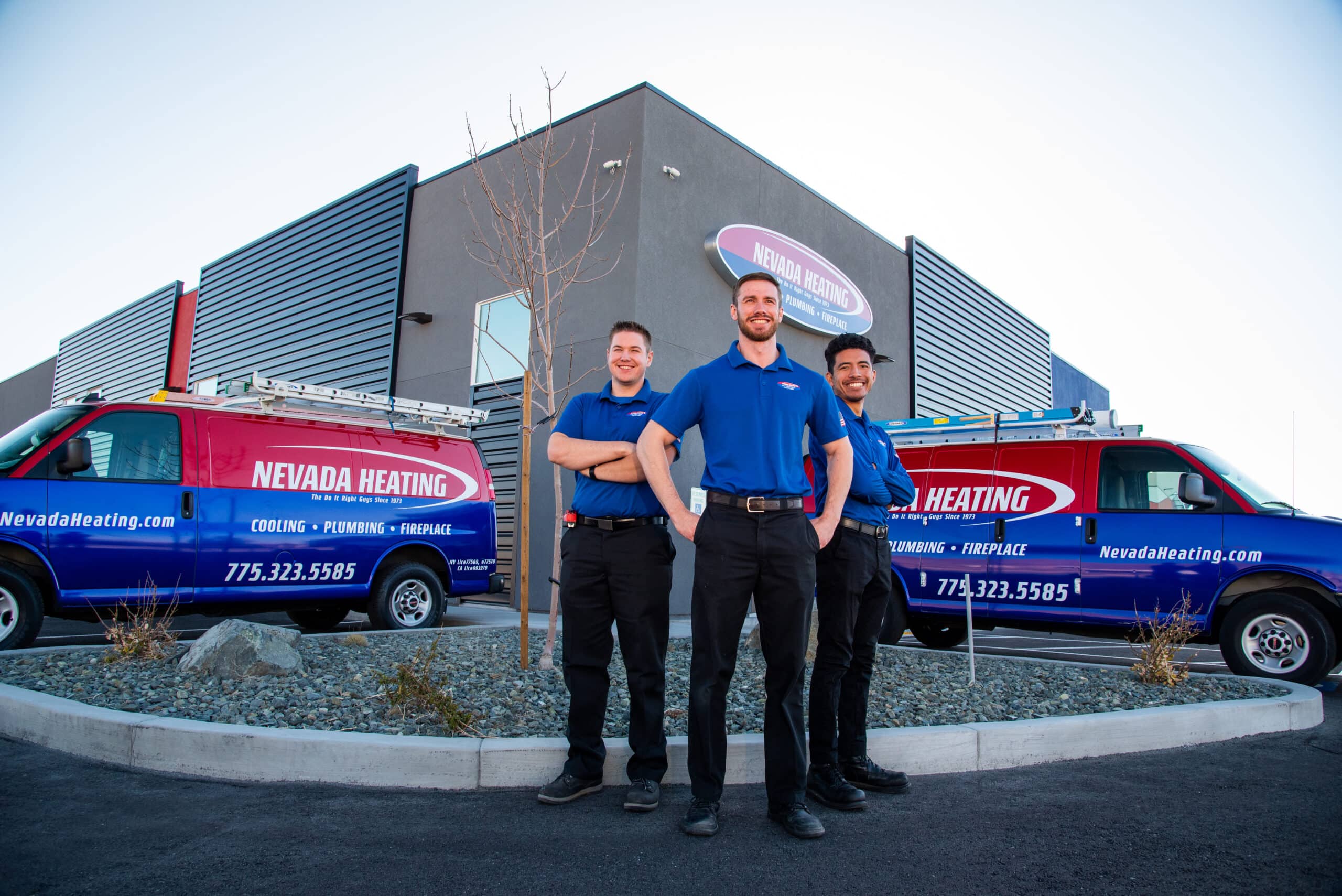 My father found work in Reno, Nevada, in the late 1960s working for numerous manufactured housing companies that sold and set up trailer homes.  He built his knowledge and skill set by installing new gas lines and hookups for gas appliances. Oftentimes this meant having to run new gas lines to appliances either underground or under trailer homes. He converted natural gas to propane, and vice versa, depending upon where the homes were being set up. This work would later prompt him to start his own company, Nevada Gas Service. Nevada Gas Service was the foundation to his career. In the following years the company would set focus on the installation of gas lines, conversions for appliances, and fire-up equipment.
As his knowledge and experience grew, several manufactured housing companies began to take notice of my dad's trade ability. Because of this, they started asking him to help with furnace and evaporative cooler repairs, leading to a growth in business along with his ability. To supply the demand of his growing business, my father self-taught himself to work on heating and cooling equipment. My father saw the opportunity to push the company toward heating and cooling as the need was in high demand; very few companies were around, at the time, who could do this sort of work.
In 1973, my mother and father built a two-car garage next to our small northwest home that became the company's shop and marked the founding of Nevada Heating, Air Conditioning & Plumbing Inc.
I was born in 1974, and I fondly remember the day that I ran outside to the driveway chasing my dad as he got ready to go to work, yelling, "Dad! Can I go to work with you?" To which he responded with hand over the top of my head, "Not until you are at least this big!" Though it was not long till I started the occasional workday with my dad at the age of 5.
After self-learning to install a central air conditioning system from a large old book titled, Modern Refrigeration, (which I still have on my desk to this day) Dad, Mom, and I drove out to somewhere in the middle of Nevada, probably Winnemucca, and installed our first AC system for a customer. I remember eagerly sitting on a small mattress my dad had fixed on top of the air conditioner box in the back of our old UPS work van. Mom had packed a large cooler full of meals, snacks, and drinks for the long day ahead of us.
As I grew so did my role in the company. I remember as a young teen I would spend the summers helping my dad as a tool fetcher, "Goffer," they called me. The jobs and service calls would be all day, every day through the summers—pretty boring for a kid, but looking back it taught me a lot about hard work, earning an honest living, and paying bills. My compensation through this time from my parents was lunch, $5 per day, and payment for my summer soccer academy in Santa Barbara, which was a passion of mine. Eventually, I remember discussing a raise with my dad over a burger. He told me, "Lets both write down a number on a small piece of this napkin and pass it to each other." I opened the napkin to find we had both written down $7.50 per day. I had earned my first raise.
After graduating Reno High School in 1992, I went to college to study mechanical engineering. During that time, I also earned my pilot license and few other aviation ratings. At the time I was not sure if I wanted to be an airline pilot or an engineer. After a few years of school and parking cars at night at the Reno Hilton, I decided to talk to my mom and dad about joining the family business full time and focusing on my career as a HVAC and plumbing contractor. My dad sent me off to Phoenix Arizona for a year to learn heating, air conditioning, refrigeration, and electrical principles. After a year, I returned to work as an installer assistant. We had hired an old pro to teach me installation of furnaces and air conditioning systems. After about four years working with the family business, I continued attending service repair trade schools around the country to further my knowledge and skills.
Around 1997 my parents bought our first shop just off Mill Street in Reno.
The 5,000 square foot building was a huge move for the company from our home garage-based business. We had thoughts early on of renting half of it out, but we soon grew into every inch, even opening our first small fireplace boutique, Benjamin Franklin Fireplace Shoppe. Our business grew year after year steadily as we added service technicians, bookkeepers, call center representatives, and installation crews. I worked as an operations manager for the company and performed sales.
To further my education, I attended numerous training programs with the National Comfort Institute out of Cleveland Ohio. There I learned about HVAC system efficiency, home insulation efficiency performance, and to test it to see how well it was working. This knowledge took our company's skill to a higher level. New knowledge and training led to the founding of another division, Home Energy Experts (HEE). HEE complemented Nevada Heating, and Bens Fireplace by making homes safer and more efficient with the products and services it provided. It focused on correctly sized equipment, houses with better performing insulation, less air leakage through homes, and safety from carbon monoxide.
Through all these services, Nevada Heating became known as the "Do It Right Guys."
Today, Nevada Heating, Bens Fire, and Home Energy Experts is effectively named Nevada Heating, Cooling, Plumbing, Fireplace Inc. And we remain the, "Do It Right Guys!"
Nevada Heating is now located in its new state of the art facility in Spanish Springs, Nevada, after the completed construction in March of 2020.  The facility sits on a secured and fenced two-acre lot and has a 7,000 square foot pull thru shop, with a 4,000 square foot fireplace and stove showroom, along with 4,500 square feet of office, training, conference area, and still has plenty of room for growth.  Servicing most of northern Nevada and parts of California with 28 employees, 16 trucks, and five job trailers.
After nearly 50 years of business, we have come a long way with our locally owned and family operated business.